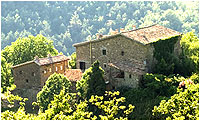 Serra-rica is a beautiful old farmhouse situated on top of a small hill surrounded by woodlands of oak and poplar together with other species such as ash and elm.

The house is made up of the main body dating back to the XI century, which, as with all farmhouses, has been built on to and extended over the years. The most important enlargement was carried out at the start of the XVII century when the roof was raised and the adjoining farmhouse built creating, between this and the main farmhouse, a passage way or "call" thus giving Mas Serra-rica a very characteristic trait and charm.

Of the adjacent constructions the old barns stand out, built in the middle of the XIX century they are what we have rehabilitated to house three independent small farmhouses for rural tourism. The rehabilitation of the barns was carried out with the maximum respect for the original construction regarding not only the form of the buildings but also materials used whilst always keeping in mind those who would eventually stay in them. Attending to the very smallest of details to ensure that your stay here be a comfortable one you can look back at with satisfaction.

The result has been magnificent, creating warm homely spaces combining stone and wood, the old and new, beauty and comfort.

As a result of its situation, 800 m. above sea level, Mas Serra-rica enjoys the excellent climate of a semi mountainous type, not too hot in the summer and well above the insistent winter fogs of the surrounding countryside, giving it many a bright sunny winter's day.